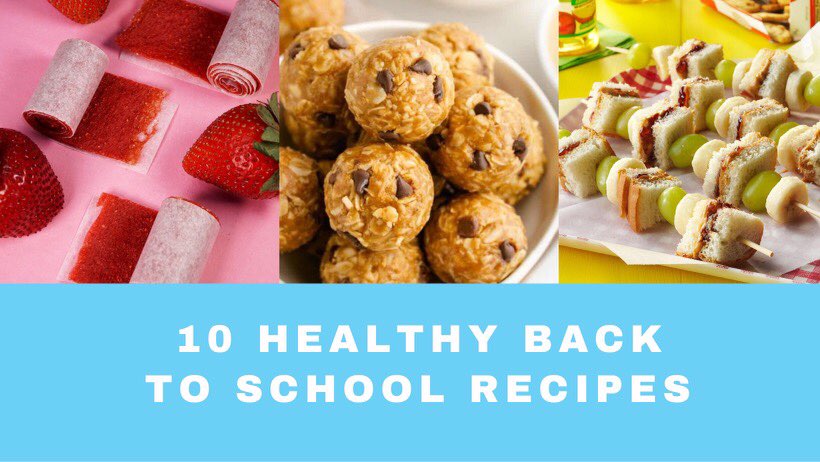 10 Healthy Recipes for School Snacks and Lunches
Another school year is among us once again, which means the return of juggling work, carpools, meal preps and more. Our healthy recipe ideas provide easy meal solutions for school lunches and are guaranteed to destress your mornings! The following recipes are quick to prepare and require minimal ingredients that can likely already be found in your fridge and pantry.
#1 Frozen Yogurt Berry Bars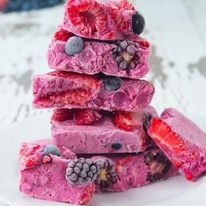 This healthy snack is perfect as an after school treat or as a healthy dessert and all you need are 3 ingredients to make them. These bars are a favourite amongst kids and parents alike with how easy they are to modify with your favourite flavours
Ingredients:
Your favourite yogurt
Fresh or frozen berries
Optional ingredients: nuts, granola, coconut, honey, etc
Directions:
Spread yogurt on a plate or tray lined with parchment paper (to prevent sticking)
Spread your yogurt of choice on the paper in a thick layer
Sprinkle your berries and desired optional toppings on the yogurt
Freeze for minimum 1 hour and enjoy
#2 Almond Butter Power Balls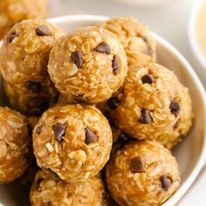 This snack is made with an oatmeal and almond butter base which makes it easy to customize with your favourite mix-ins.This delicious treat is a perfect on the go snack for kids and adults and is super easy to prep in advance!
Ingredients:
½ cup almond butter (or your favourite butter spread of choice)
⅓ cup maple syrup (or your favourite sweetener)
1 cup old-fashioned oats
½ cup semi-sweet chocolate chips
⅔ cup shredded coconut
Optional Ingredients: chopped nuts, flax seed, hemp seed, granola, etc
Directions:
In a bowl combine the old-fashioned oats, almond butter, chocolate chips, maple syrup, shredded coconut and optional ingredients if desired
Mix all the ingredients until well combined and a sticky dough is formed
Refrigerate the mixture for at least 30 minutes
Roll the mixture into balls and place in an air tight container for storage
#3 Homemade Fruit Roll Ups: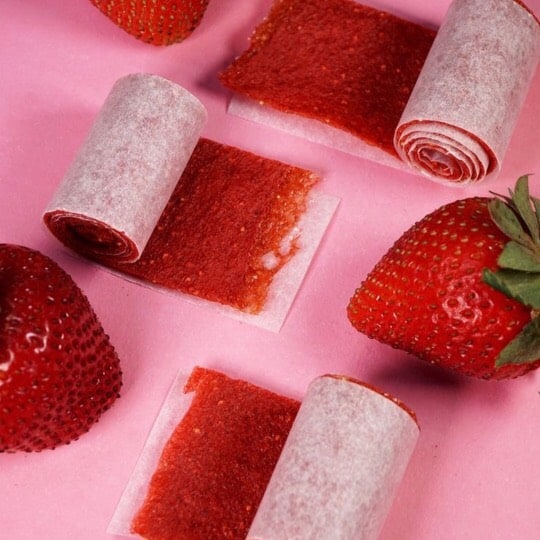 They are the perfect healthy sweet treat for all and a healthier alternative to store bought fruit roll ups. You can customize the flavours by using your favourite combination of berries and enjoy them at home or on the go!
Ingredients:
5 cups of your favourite berries
¼ cup Honey
2 Tbsp lemon juice
Directions:
Preheat oven to 170 degrees Fahrenheit or the lowest temperature setting on your oven
Line a baking sheet with parchment paper
Place berries, honey and lemon juice in a blender or food processor and blend until smoothe
Optional: Pour puree through a fine mesh strainer for smoother finish
Pour pureed fruit onto lined backing sheet in a thin even layer
Bake for 5-6 hours, rotating pan halfway through. Remove from oven when puree has set and is no longer sticky
Allow the pan to cool completely. Then cut the paper-lined fruit leather into long strips and roll
Store fruit roll ups in an air tight container for up to 2 weeks
#4 Tasty Ham and Cheese Pinwheels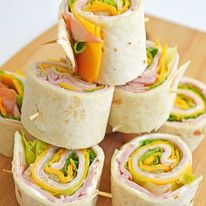 This lunch is super easy to make and will keep you fuelled throughout the day. These pinwheels are customizable with your favourite deli meats, cheese and vegetables and are perfect to make ahead for school lunches!
Ingredients:
2 large flour tortillas
4 tbsp of cream cheese
12 thin slices of your favourite deli meat
8 thin slices of your favourite cheese
Your favourite vegetables
Directions:
Lay out your tortillas and spread about 2tbsp of cream cheese onto each one
Layer on ham, slices of cheese and your favourite vegetables
Roll up the tortillas as tight as you can and slice them into 2inch sections
Insert a toothpick through the centre to hold the pinwheels together
Serve immediately or store in an airtight container in the fridge
#5 Apple Ring Doughnuts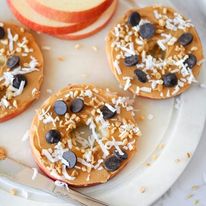 This sweet treat takes a total of 5 minutes to prepare and is best consumed right when it is made. You can use your favourite type of apples for this recipe and customize the toppings as you please, the possibilities are endless!
Ingredients:
1 apple of your favourite variety
¼ cup of peanut butter or your favourite nut butter or spread
¼ cup of chocolate chips, coconut, nuts, seeds, cereal etc
Directions:
Wash and dry your favourite type of apples
Core the apple and slice into 1/2 inch thick rings
Spread your favourite nut or almond butter on one side of the apple
Sprinkle your favourite dry toppings on top
Enjoy!
#6 Chocolate Banana Bites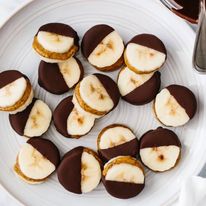 Our healthy snack of the week are frozen chocolate banana bites! These mini bites are the perfect cold treat for the upcoming hot weeks and a great alternative to ice-cream. These banana bites only use 3 ingredients and can be stored in the freezer for up to 2 months!
Ingredients:
2 bananas
½ cup of your favourite chocolate
½ cup of any nut butter
Directions:
Slice bananas into 1/4 inch round slices
Make banana sandwiches by topping each banana slice with a little bit of nut butter and placing a second slice of banana on top
Place the banana bites on a tray lined with parchment paper and freeze for 15 minutes
Melt your favourite chocolate in the microwave in 30 second intervals, ensuring the chocolate does not burn
Using two forks, dip each banana sandwich into the chocolate
Once all the bites are dipped in chocolate, freeze the treats for another 30 minutes
Store these snacks in a freezer bag or container for up to 2 months
#7 Broccoli Cheddar Egg Cups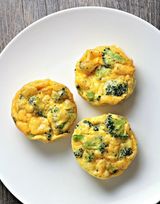 This simple recipe is perfect as both a breakfast and a school (or work) lunch. It is packed with nutritious ingredients such as broccoli and eggs and can be enjoyed both warm or cold.
Ingredients:
2 cups cooked and chopped broccoli
4 large eggs
12 crushed Ritz crackers (or 1/4 cup bread crumbs)
1 cup cheddar cheese
1/2 garlic powder
1/2 tsp salt
Directions:
Preheat the oven to 375 degrees and grease a muffin tin
In a medium bowl combine all of the ingredients and mix well
Fill each muffin tin 3/4 of the way up
Top egg cups with more cheese and bake for 14-16 minutes until cheese is bubbling and the center is set
Let cool for at least 5 minutes and serve with your favourite sauce.
#8 Cheerio Bars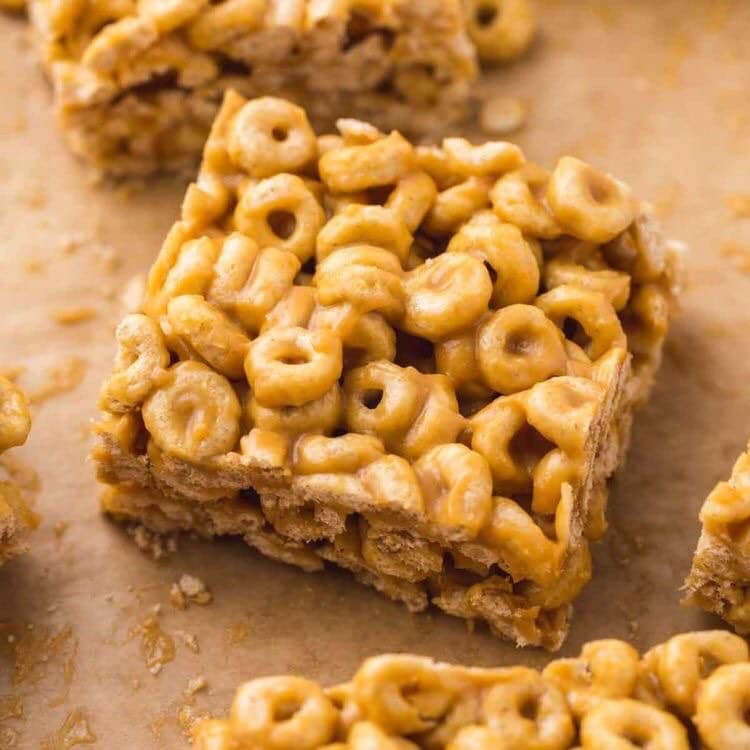 These cheerio bars are made with 3 key ingredients and can be made days in advanced. You can substitute your favourite cereals and include as many mix- ins as you desire!
Ingredients
3 cups of Cheerios (or any cereal of your choice)
1 cup of your favourite nut butter
2tbsp of butter
1/2 cup of brown sugar
Optional: dry fruit, nuts, coconut, oats, flax seeds etc
Directions
Line a 9×13 in baking pan with parchment paper
Melt your nut butter, butter and brown sugar in a sauce pan over medium heat
Stir in your cheerios and optional ingredients into the nut butter mixture
Press the cheerio mixture into the lined baking pan
Let cool for at least 1 hour
#9 PB & J Kabobs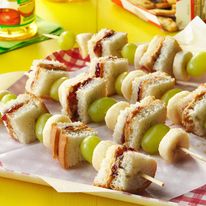 These skewers re-invent the humble peanut butter and jelly sandwich and give it a whole new style. You can use any seasonal fruit instead of bananas and grapes and opt for your favourite spreads to customize these kabobs!
Ingredients:
2 slices of your favourite bread
2 tbsp of your favourite nut butter
2 tbsp of your favourite jelly
1/2 cup seedless red or green grapes cut in halves
1 small banana sliced into rounds
2 wooden skewers
Directions:
Spread your nut butter on one slice of bread and your jelly on the other slice of bread and then create your sandwich
Cut the sandwich into 1 inch cubes
Alternate threading the sandwich squares, grape slices and banana slices on your skewers
Serve immediately or pack it up for a fun school snack
#10 Cheesecake Stuffed Strawberries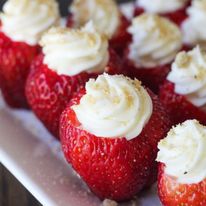 This snack is sure to be a hit with kids and adults alike. These stuffed berries are a perfect dessert after dinner or a lovely light compact snack at school. You can cut down the prep time by stuffing the berries with whipped cream.
Ingredients:
1 pint strawberries (hulled)
8 ounces of cream cheese, softened
1/3 cup powdered sugar
1 tsp vanilla extract
1 tbsp of milk
Graham crackers
Directions:
Wash and dry the strawberries. Using a small knife carefully remove the stems of the strawberries and then proceed to remove the inside fleshy centres. Place berries on a tray.
In a bowl beat the cream cheese, sugar, vanilla and milk with a mixer on medium speed until creamy.
Using either a piping bag or a small spoon, stuff the berries with the cream cheese mixture.
Sprinkle graham crumbs on top as a garnish and enjoy!
Let us know if you made any of these delicious treats!