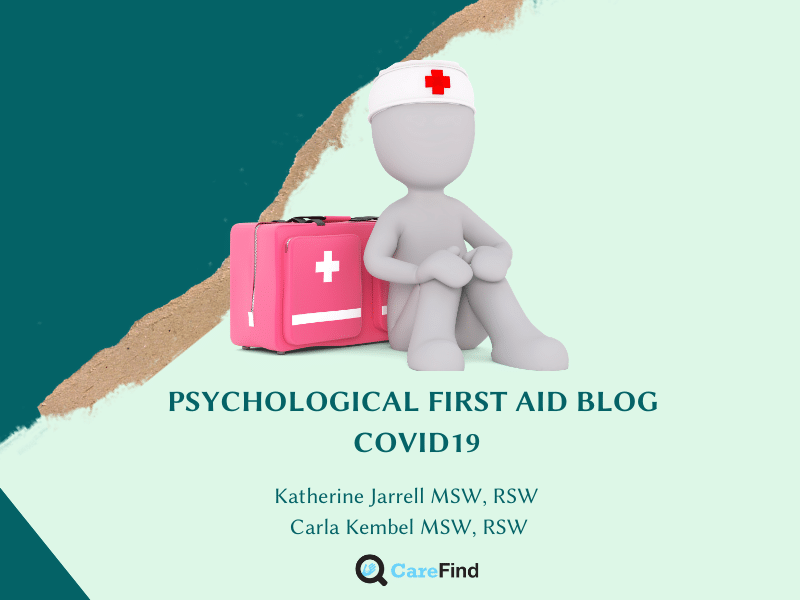 Psychological First Aid: After a Disaster or Emergency
Have you offered someone emotional and mental support during this pandemic? If so, you likely have been putting Psychological First Aid into action! Psychological First Aid (PFA) was the topic of Community Education Service's latest webinar, hosted by Katherine Jarrell MSW, RSW, and Carla Kembel MSW, RSW. PFA is an evidence-based, internationally recognized first response method based on a World Health Organization model following disasters and emergencies, including this pandemic. PFA is helping people with their social and emotional needs which anyone can provide. The purpose of PFA is to reduce stress, assist with current needs, and provide coping strategies.
PFA includes five intervention principles that are essential to responding to a disaster and helping people recover. The five principles are:
Safety – provide safety to those going through distress.
Calm – Promote calmness and validate feelings.
Self and community efficacy – Promote self and community efficacy.
Hope – Instill hope and optimism.
Connectedness – Remain connected.
Disasters have four phases which occur as a cycle. The four phases are:
Impact – The initial reaction where people may be in a state of shock with a wide variety of reactions.
Response – The immediate impact of the disaster is gone and now we are in a short-term adaptive phase where reality is sinking in.
Recovery – The recovery period varies in length and can take months or years.
Preventions and preparedness – The disaster has served as a learning experience and time is invested in preparing preventative measures and resources should another disaster occur along with the previous phases.
During the impact phase, everyone is affected emotionally and mentally, then during the response phase, many people are still affected. During those two phases, PFA will be used most, and we have already been using it as we have likely offered support before to someone without knowing it is PFA. When asked by hosts which phase they believe we are currently in regarding COVID-19, the webinar's viewers were split between the response and recovery phase.
PFA is provided to anyone, no matter their age. However, when it comes to children, we must adjust how we provide it. Some tips include being present, visible, and available to support them during this confusing time. We can explain to them what is going on however, we do not have to get scientific with them for simplicity and peace of mind. Additionally, try to limit their exposure to the news and screen time, instead, encourage play and creativity. A simple but often overlooked tip is when talking to children, get down physically to their level to make them feel more comfortable and supported. Providing PFA is about listening but not pressuring someone to talk.
Supporting others during such crises can be draining to oneself, so please do not neglect your own self-care. It is important to note that emotional and mental distress following a disaster does not mean a person is suffering from mental illness. After a disaster, most people will come out with no clinical interventions, or even come out stronger.
For more information on PFA please visit: 
https://www.albertahealthservices.ca/assets/healthinfo/mh/hi-mh-pfa-after-disaster-emergency-public.pdf