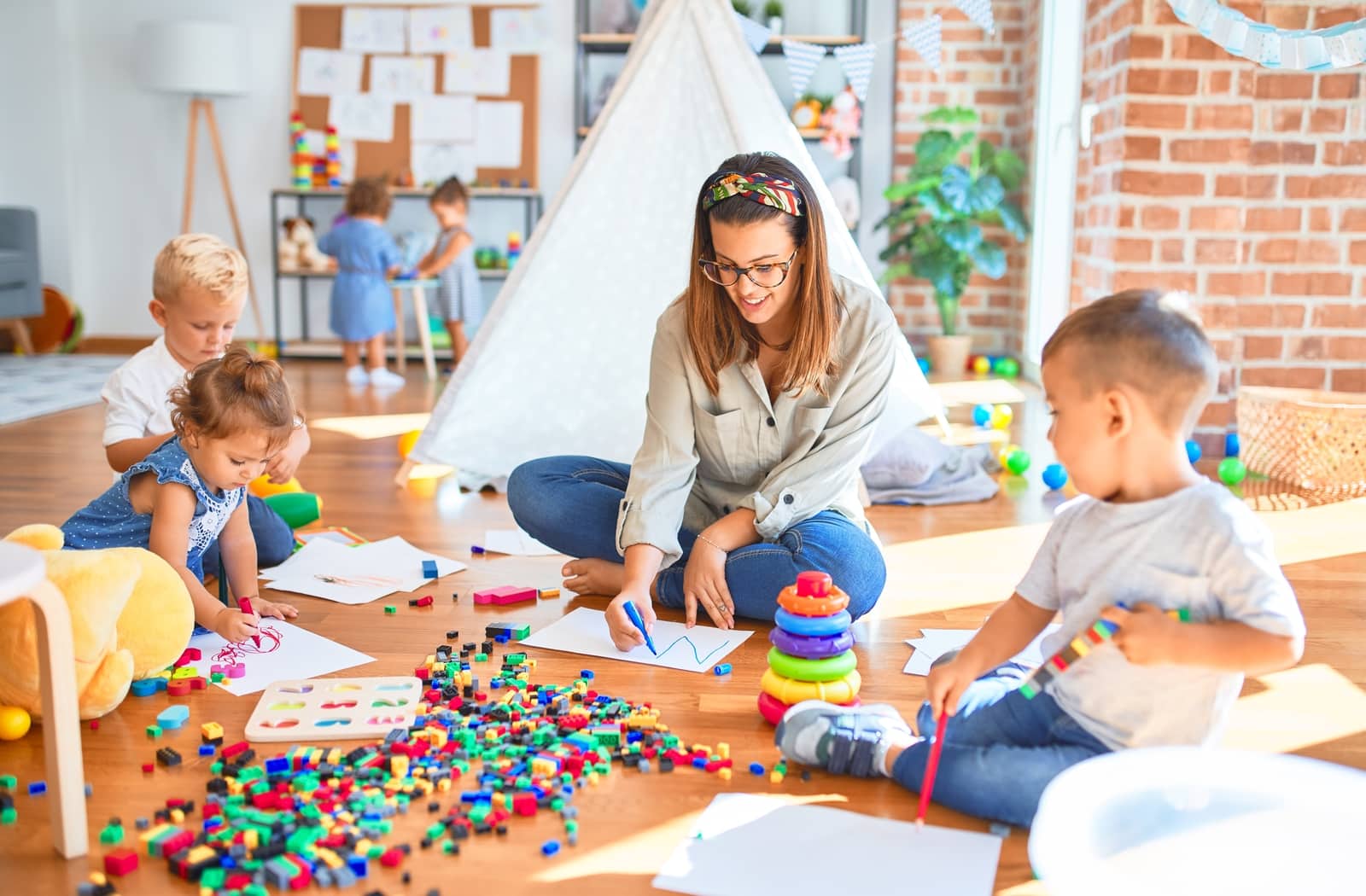 Searching for childcare can be a daunting task. You want to be absolutely certain that your child is in good hands and ensure their welfare away from home.
But how do you determine what sort of childcare arrangement works for you? Where do you start—daycare versus day home? What's the difference between preschool and out-of-school care? And how do you find any options if you don't work a 9-to-5 job?
We're here to help. We've broken down childcare basics so you have a more solid understanding of what's on offer and what you might be looking for. Read on to find out how CareFind can help you find childcare options that fit your family.
Types of Childcare
We'll start by breaking down the types of childcare available. Understanding all the different terminology associated with childcare is the first hurdle to jump when weighing your options. Let's dive in.
Daycare
Daycare is one of the more traditional avenues of childcare. These facilities are designed to care for multiple children, often in different age groups. Many daycares offer programming, field trips and a daily routine for the children in their charge.
The government monitors and regulates daycares. In Alberta, a daycare is any facility offering care to 7 or more children for 4 or more consecutive hours a day. Daycares normally have a dedicated director and plenty of staff members to ensure the correct child-to-adult ratio for adequate care.
Out-of-School Care
Out-of-school care is aimed at older children who are in grade school during the day. This option offers a bridge between when school lets out or begins and when guardians return home from work.
Out-of-school care may be offered alongside daycare at the same facility—convenient for families with children of different ages.
Preschool
Preschool in Alberta offers a care option that provides less than 4 consecutive hours of care a day. This care option typically helps children transition into a classroom setting and focuses on education and development.
Dayhomes
Dayhomes are smaller-scale childcare options that are usually offered out of a family's residential home. Often day homes will provide care for a few children alongside their own kids. These can be licensed or unlicensed, so be sure to check credentials during your search.
Day homes may be a good option for children who might feel overwhelmed by the number of children at a traditional daycare facility. Day homes can only legally accept 6 children, not including the caregiver's own. This means more one-on-one supervision and care in a smaller group.
Nannies
Nannies are an option for private childcare, normally in your own home. A nanny works closely with the family and provides regular care for your children, including bringing them to and from school and lessons.
Nannies can often be found through an agency or privately through recommendations from friends and family. Some families find a nanny more cost-effective if they have more than 2 children.
Babysitters
Babysitters offer a more casual and flexible option for childcare at non-traditional hours. People usually contract babysitters for irregular periods of time or on a temporary basis.
The variety of babysitters available is enormous, including:
Arrangements with friends or family

Teenagers looking for a job or childcare experience on evenings or weekends

Childcare swaps with another family

Licenced Vs Unlicensed
In Canada, most child care providers need to be licensed. Every province has their own licensing regulations—you can view Alberta's here.
Part of Alberta's licensing regulations stipulates that a certain number of childcare providers at each childcare operation are certified as early childhood educators.
Licensed facilities offer the peace of mind that comes with knowing your child is being cared for in a place with carefully laid out guidelines that meet government-approved standards. They are also subject to regular inspections.
If you go the route of unlicensed child care, there are no regulations in place. Be sure you properly interview and trust the caregiver of your child. If you have concerns about an unlicensed caregiver or program, you have recourse through Alberta's child care connect hotline.
Childcare Considerations
To find the best fit for your family, you need to match up the needs and personality of your child and the needs of your family with the following considerations.
Cost
Finding a daycare that fits your budget can be challenging. Daycare costs in Canada tend to be high, and though there are some set fee daycares, only 7% of spaces available in Alberta fall in the $25/day category.
Per child, per month, the average cost range of daycare in Alberta falls between $830–1,350 for full-day child care centers and $650–920 for home-based child care centers. There are subsidies available for families in a certain income range.
Location
Most people will want to find a childcare center that meets one of the following criteria:
Close to home

Near your child's school

Close to work

Along your daily commute or bus route
This can make it easier to fit drop-offs and pick-ups into your schedule.
Scheduling
There will be differences in availability and cost for full-time versus part-time childcare. The hours you need care during will also affect your options, as many daycare centres and other full-time options only operate based around 9-to-5 hours.
Availability
Accessing regulated, licensed childcare can be impeded by waitlists. In Canada, there are only enough regulated childcare spaces available for about 27% of kids 0-12. This may contribute to the use of unregulated caregivers such as babysitters, nannies, or unlicensed dayhomes.
No matter which option you choose, be sure to vet the provider thoroughly. Ask any and all questions you may have and make sure their answers meet your standards.
Find Your Fit with CareFind
We understand the struggle of finding quality care for your kids. We've been through it ourselves—that's why we started CareFind.
You don't have to wade through all your childcare options on your own. CareFind allows you to search for listings in your area that meet all your needs. Search by location, cost, type of care to find exactly what works for you and your children.